Bed In A Box Vs Tempur-Pedic. Which Is Better?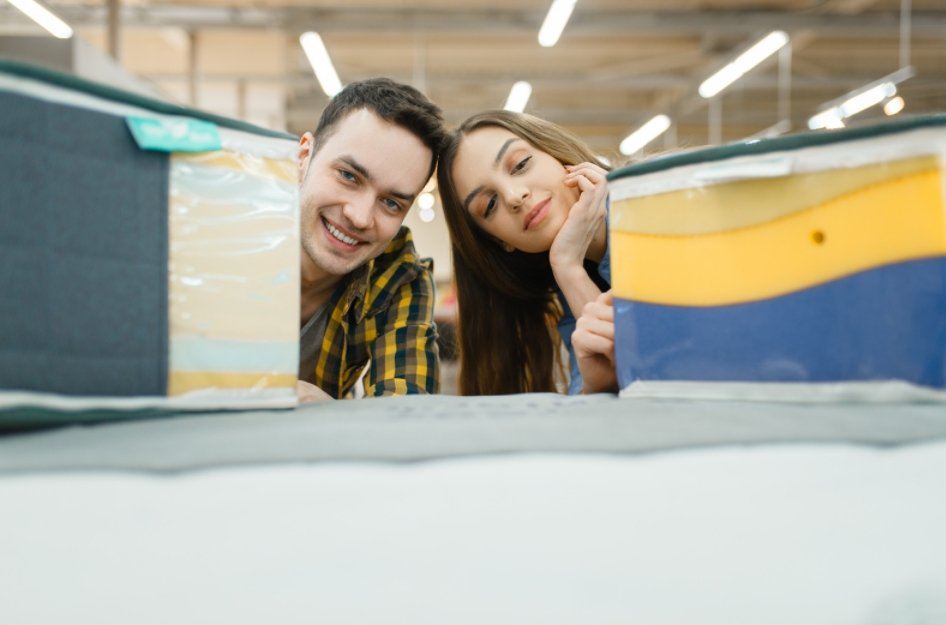 Bed In A Box Vs Tempur-Pedic. Which Is Better?
There is a lot of debate on which is the better mattress, a bed in a box or a Tempur-Pedic. In this post, we will break down the pros and cons of each to help you decide what is best for you. Bed in a box mattresses are becoming more and more popular, but there are still some people who are unsure about them. Let's take a look at the benefits of both types of mattresses so that you can make an informed decision.
What's With All The Hype Around Tempur-Pedic Mattresses?
Tempur-Pedic is a company that has leveraged the latest in mattress technology. They were one of the first companies to create memory foam mattresses for consumers, and it worked well because their patented design allows you to get more value from your money by Reducing motion transfer while still delivering exceptional support and comfort!
The company was founded on creating a better way for people to sleep after NASA released memory foam into public use - as it's standard now! Their product outlived all other competitors because they created an amazing product using layers of high quality gel combined with patented technology called "TEMPTEE". This advanced material reduces pressure points while also reducing motion transfer so you can experience uninterrupted rest without waking up at night or feeling uncomfortable when your partner moves around during bedtime hours.

Since then, mattress companies have set foot to compete with the famous Tempurpedic brand. Despite all the competition against this giant, Tempurpedic continues to stand as one of the most popular brands known for their comfort and technology!
Key Advantages Of Tempur-Pedic Mattresses 
Support
Mattresses that provide excellent support are often thought to be firm, but we're talking about materials which align your body properly. Tempurpedic mattresses offer great assistance for most customers in this area; however there is a small group who may not always enjoy the feel of these types on account they do not prefer too much pressure along edges or towards sides when sleeping normally throughout night time hours.



Durability
If you want a mattress that will last for years to come, then it's important that the one you buy is durable and well made. TempurPedic offers above average durability thanks to leading edge technology and the use of quality materials. All these together along with a 20 year warranty can guarantee satisfaction for years on end!
Is Tempur-Pedic Really Better Than Other Foam Mattresses?
With so many mattresses made from memory foam and foam like material, it can be confusing determining whether alternative options are as reliable as the Tempurpedic brand. There are a few reasons why going for a Tempurpedic mattress may benefit you. Here are some key factors to consider:
First, Tempur-Pedic mattresses are made of something called TEMPUR material. Compared to most memory foam, dense and supportive Tempur provides much more support while still contouring the body well. The advantage is that it resists sagging so you'll have improved relief for pressure points or poor posture due its resistance against offsetting weight amounts on different areas which leads to improper alignment caused by unnatural positions throughout sleep periods.
Secondly, it's worth mentioning that Tempur-Pedic mattresses are designed for people who want their investments to last. The 10 year warranty on all Tempurpedic mattresses means you can get peace of mind in knowing your investment won't go down the drain when something happens like water damage or if one side starts getting old enough faster than others due to wearing and washing patterns which occur over time; but don't worry! Your original price tag will cover any repairs needed as long as they're within warranty period limits.
What Is The Best Mattress That Comes In A Box?
Unfortunately, we must give you the most honest answer, and you probably won't like it! 
There is no easy answer to which mattress in a box is best because everyone's needs when it comes to their sleep are different. This means that trying out various mattresses prior to committing can be the key step for finding what will work perfectly with you and your personal requirements!



Takeaways

It is important to understand that there are many different types of mattresses on the market. While some, like Tempur-Pedic or bed in a box mattress companies, offer more long term solutions with their products, other brands focus on providing an inexpensive option for those who need something shorter-term. If you're looking to make your purchase decision easier by trying out all of these options before making up your mind about which one is best for you, head over to one of our National Mattress stores and test them out today!